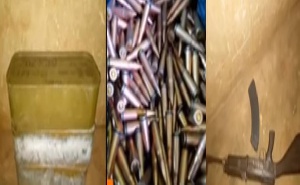 Police at Kpassa – the capital of Nkwanta North District in the Volta Region of Ghana – have intercepted dozen of ammunition and an Ak47 rifle.
Preliminary findings indicate that the weapons were being transported to the troubled Chereponi district, where deadly ethnic violence escalated in recent days.

The ammunition were wrapped and hidden in boxes of Special Ice Mineral Water and were being transported to Chereponi in a Metro Mass Transit Bus.

The driver and mate of the vehicle were arrested and detained by the Police on Monday.

The fighting between indigenous Konkombas and Chokosis at Chereponi sparked last week Monday and intensified in violent spillovers causing total disorder and widespread state of fear.
The violence has led to an imposition of curfew with nearly 50 armed security forces sent to the area in a move by the Regional Security Council to ensure ceasefire, but on Friday, fighting raged into day four when several villages were attacked, forcing a mass exodus of residents from the district to neighboring Togo.

According to the Konkomba Youth Association, 10 Konkombas have died so far and about the same numbers injured, and are at the Saboba hospital. The figure has not been independently verified.

Both factions are accusing the security of avoiding conflict villages. There are also reports of militias dressed in military uniforms engaging in indiscriminate burning and shootings.