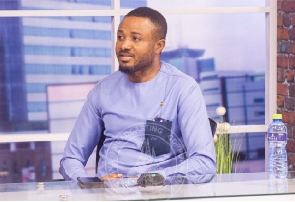 Thu, 7 Sep 2023 Source: GNA
Adib Saani, Executive Director, Jatikay Centre for Human Security and Peace Building has stated that the participation of police officers in partisan politics should be criminalised.
He stated that the involvement of law enforcement officers in politics should be addressed more vigorously.

"It should be moved from an ethical issue to a criminal matter. When someone is found to be overly political in their actions, they should be interdicted and investigated," he said.

Saani told the Ghana News Agency on Tuesday that involvement in party politics dragged the Ghana Police Service (GPS) into disrepute, undermining professionalism and public trust in the Police.

His remarks follow disclosures from an ongoing investigation into an audio tape involving a scheme to depose Dr George Akuffo Dampare, the Inspector General of Police (IGP).

On Tuesday, July 11, 2023, a leaked audio recording of a Police Commissioner and a politician discussing a scheme to depose Dr Dampare went viral.
Daniel Bugri Naabu, a former Northern Regional Chairman of the New Patriotic Party (NPP), cited three Police Officers, COP George Alex Mensah, Superintendent George L. Asare, and Superintendent Emmanuel Eric Gyebi, as the trio he engaged in the conversation at his office in Osu on Monday when he appeared before the Committee as the first witness.

As a result, on Tuesday, July 25, 2023, Mr Alban Sumana Kingsford Bagbin, Speaker of Parliament, formed a seven-member bipartisan Committee to investigate the alleged plan to remove the IGP from office before the 2024 general election.

The Committee, which has up to September 10, 2023, to report back to the House is made up of three members each from the Majority and Minority sides of Parliament, and a technical person.

The committee is chaired by Samuel Atta Akyea, NPP Member of Parliament for Abuakwa South with James Agalga, a National Democratic Congress (NDC) MP for Builsa North as the Vice-Chairman.

Patrick Yaw Boamah, NPP MP for Okaikwei Central; Madam Ophelia Mensah, NPP MP for Mfantseman; Eric Opoku, NDC MP for Asunafo South; Peter Lanchene Tuobu, NDC MP for Wa West; and Dr Isaac Lartey Annang, a lawyer and human rights campaigner, are members of the committee.
Saani, who is also a Security Analyst, said the probe had revealed anomalies and issues within the Service that must be addressed.

"Since the sitting began, it has become clear that there are some deep-seated fundamental issues within the Police Service that must be addressed. There are defects and concerns about the IGP's management style, which poses a threat to the State's security architecture.

"If the Police are not able to put its house in order, how will it be able to effectively carry out its mandate as enshrined in the law?" he asked

He stated that there was nothing wrong with lobbying within the Police, but that such lobbying should not compromise the Police's capacity to carry out their mandate independently.

Saani called for reforms in all areas of the Service and resolving disparities in police laws, such as promotions, among other things.
He expressed trust in the Committee's work and urged them to press the IGP to react to allegations levelled against him.

The Security Analyst advocated for the establishment of an independent police complaints commission to investigate police misconduct and resolve public concerns.

He proposed that the Commission include fewer police officers and more people from the Commission on Human Rights and Administrative Justice (CHRAJ), the Attorney-General's Department, Civil Society Organisations, attorneys, and other professions.
Source: GNA