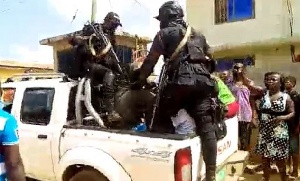 A policeman escaped possible lynching at the hands of some men believed to be thugs at Techiman in the Bono East Region when he was shot during the ongoing limited registration exercise by the Electoral Commission across the country.
According to a report by TV3, the said police officer, whose name is not given, was targeted after some violence erupted at one of the registration centers in the town.

The report indicated that in the moment, the police stationed there fired some warning shots as a way of warding off the violence, but some thugs then targeted one of the policemen.

"On Thursday, September 14, the Vatican City Electoral Commission registration center in Techiman witnessed violence, leading to the police firing warning shots.

"According to reports, some thugs attacked an anti-robbery police officer and begun assaulting him. In an attempt to escape, the officer fired warning shots to protect his life," the TV3 report stated.

Following this incident, some executives of the National Democratic Congress at Techiman alleged that the shooting incident in the area was a plan of the New Patriotic Party to cause mayhem in the 2024 general elections.

Speaking at a press conference, one of the leaders of the party blamed the NPP for the violence that occurred on Thursday, September 14, 2023, at the Vatican City registration center at Techiman.
The NDC further alleged that this was part of a larger strategy to intimidate people.

Click here to start the nomination process for the 2023 GhanaWeb Excellence Awards

Ghana's leading digital news platform, GhanaWeb, in conjunction with the Korle-Bu Teaching Hospital, is embarking on an aggressive campaign which is geared towards ensuring that parliament passes comprehensive legislation to guide organ harvesting, organ donation, and organ transplantation in the country.

Meanwhile, watch as traders at the Tetteh Quarshie Art and Craft Market reflect on their new lives 2 years after decades of their investments were lost to a demolition exercise. They spoke with GhanaWeb TV's Etsey Atisu on #SayItLoud:




Meanwhile, quickly catch up on the story of Enil Art, the young Ghanaian artist making a name for himself by randomly surprise-sketching people in public places below. This is a GhanaWeb Special interview with Etsey Atisu:





You can also watch this episode of People & Places here:




You can also watch the latest episode of Everyday People on GhanaWeb TV below:





Watch the launch of the 2023 GhanaWeb Excellence Awards on GhanaWeb TV below:




Share your news stories and ideas with GhanaWeb




To advertise with GhanaWeb




AE/OGB