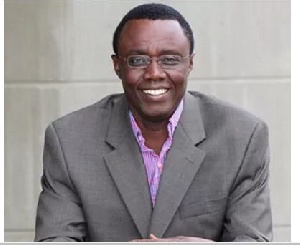 Mon, 27 Mar 2017 Source: GNA
A University Professor has blamed Ghana's slow pace of development on its political party driven development approach and was gradually losing quality in its development path.
As a result, he said the institutions that existed at the national and local levels to develop indicators for quality standards had become weak.

Professor Isaac Luginaah, an Associate Professor at University of Western Ontario said the practice where politics had been placed ahead of science, Technology and logic to the detriment of the developmental plan and implementation was depriving the nation of rapid socio-economic development.

Prof. Luginaah who is also the Canada Research Chair in Health Geography noted with regret that the practice had rendered the National Development Planning Commission (NDPC) weak and irrelevant while state institutions had also become ineffective.

He was speaking on "Towards Effective Social, Educational, Environmental and Health Standards in Ghana" at the third Professor K.N Eyeson lecture at the university of Cape Coast (UCC) on Thursday.

The Professor K. N Eyeson Lecture is an annual lecture organised by the School of Biological Sciences of UCC in honour of Professor Kodwo Ndzeba Eyeson, the first Ghanaian biologist to teach at the UCC in 1963. He retired in 2007 after 36 years in service.

"Good standards which is expected to reflect quality and sustainability principles embedded in development agenda is none-existent". He added.
Prof Luginaah said the increasingly complex and interdependent nature of Ghana's development problems demanded a paradigm shift in approach to solving those problems.

He therefore, recommended to politicians to retool the NDPC to introduce and enforce effective accountability as well as transparency standards and build stronger institutions across sectors to hold together various sub-sectors.

He indicated that "system thinking" could be a critical component for Ghana's development and urged the academia to develop critical minds for nation building.

Prof Luginaah was worried that though numerous laws existed in the country, they were not functioning as they should because regulations were poor.

"Regulations at all levels including academic institutions are very poor in this country. I think it is the greatest challenge as a country insisting that regulations work is the right way to go". He said.

Prof. Luginaah said despite reports that suggested that poverty had reduced in Ghana, structural inequalities existed adding, that "an unequal society is a broken society".
On education, he expressed worry that premium was placed on humanities and business programmes in schools to the detriment of science and technology based programmes.

He noted that most tertiary education funding went to support students pursuing liberal arts, humanities and business programmes and that there was a mismatch between government priority and the practice on the ground.

He said though humanities were important, Ghana could not compete with the global world without extensive prioritisation of the development of science and mathematics education adding, that "any developed nation thrives on science".

"Overall participation in physics has declined to 18 per cent, chemistry to 21 per cent and elective mathematics is 28 per cent. Technical, Vocational and Agricultural streams have all declined, either because schools do not have capacity to offer more specialist subjects or newly created schools only offer very limited curriculum". He lamented.

Prof. Luginaah stressed that there was the need for government to reduce the overall recurrent spending on tertiary education and increase investment in science and technology related programmes in universities, research institutions and polytechnics.
Source: GNA