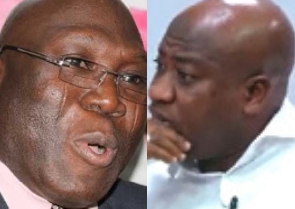 Former National Democratic Congress (NDC) Member of Parliament (MP)
for Tamale Central, Inusah Fuseini, has said that the national executives of the party did no wrong in replacing the leadership of their parliamentarians.

According to him, the NDC national executives are not mandated to consult their Members of Parliament before choosing their leadership.

Speaking in a JoyNews interview monitored by GhanaWeb, on Tuesday (January 24), Inusah said that he was an MP for a decade and at no point did the party's leadership consult them before changing their leaders.

He added that the outgoing minority leader, Haruna Iddrisu, was chosen by the party to be the minority leader without any consultation.
"I have been in parliament long enough to say on authority that not at any point was the minority leadership of parliament or the majority leadership of parliament selected by the Members of Parliament or in the selection process those members consulted.

"I went to parliament in 2006, so I met the current Speaker (of Parliament), who was doing his second term as the minority leader. I was there when we won election 2008 and tell me which Members of Parliament were consulted before the front beach of the majority was chosen.

"Or which Member of Parliament was consulted before the front beach of the minority then, the NPP, was chosen. I was in Parliament when we lost the election in 2016 and form the minority in 2017… no minority Member of Parliament was consulted when Haruna Iddrusi's team was chosen as the leadership of the minority in Parliament," he said.

He also said that the national executives of the NDC are not mandated by the party's constitution to consult their MPs when making decisions on their leadership.
He added that the Standing Orders of the Parliament do not state that MPs must take part in choosing their leadership.

Inusah Fuseini, a former Minister for Lands and Natural Resources, noted that even though he is surprised by the replacement of Haruna Iddrisu, he supports the party's decision.

Inusah Fuseini's remarks come after some members of the NDC, including his successor, the current MP for Tamale Central, Ibrahim Murtala Muhammed, criticised the party's national executive for changing their parliamentary leadership without consulting MPs.

According to Murtala, the party cannot choose the parliamentary leadership without consulting them.
"Someone should tell some of the national executives that, they cannot choose our parliamentary leadership without consulting the caucus," he wrote on Facebook.

The NDC leadership has appointed the former Deputy Minister of Finance, Dr. Cassiel Ato Forson, as the minority leader in the 8th Parliament of Ghana's Fourth Republic.

According to the NDC, Kofi Armah Buah, MP for Ellembele, will take over as the Deputy Minority leader.

While Kwame Governs Agbodza, MP for Abaklu, he will replace Asawase MP Muntaka Mohammed as the Chief Whip.
Ahmed Ibrahim, MP for Banda, has been maintained as the First Deputy Minority Whip, while Comfort Doyo Cudjoe-Ghansah, MP for Ada, is the Second Deputy Minority Whip.

This was contained in a letter to the Speaker of Parliament, Alban Bagbin, from the National Democratic Congress dated January 23, 2023.



IB/BOG