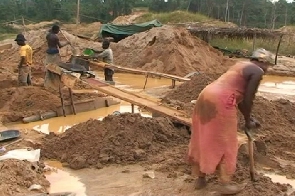 According to Inusah Fuseini, a private legal practitioner and former Member of Parliament for Tamale Central, political partisanship has made it extremely difficult to deal with illegal mining, also known as galamsey.
According to the lawmaker, our leaders have all of the good ideas that could help us address the threat, but we have allowed political partisanship to interfere with the fight.

He believes that until that is addressed, we will continue to tune in circles.

He made the remarks in an interview with Kwabena AZgyapong on Frontline on Rainbow Radio 87.5Fm.
He opined that greed, corruption, and selfishness are what has caused our challenges, including our ability to deal with galamsey.

"We all know as Ghanaians, including the President, that if we allow galamsey to continue as it is today, there will be no Ghana in the next 50 years. But what exactly are we doing? We are not fighting it in the way that we should. Political partisanship has hampered the fight against galamsey.

Galamsey is still prevalent as we speak. We are aware that it is destroying our water bodies, but we are unconcerned about the consequences. It is we. We are aware of the solutions, but we have decided not to use them."