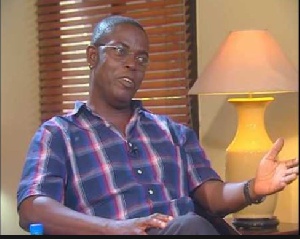 Seasoned journalist, Kwesi Pratt has asked the two wives of the late Member of Parliament (MP) for Ayawaso West Wuogon Emmanuel Kyerematen Agyarko to cease fire in their alleged desire to succeed their late husband.
According to reports, the two women are in a tussle over who legitimately takes up the seat as MP for the area.

About 500 delegates of the ruling New Patriotic Party and from 11 electoral areas in the constituency are said to have petitioned the party's National Chairman saying they will not vote for the second wife of the late MP, Lydia Alhassan but rather gunning for the first wife, Naana Agyarko.

"Over the last days since we lost our Member of Parliament, Hon. Emmanuel Kyeremateng Agyarko some people from his quarters have started pushing for one Lydia Alhassan, a "supposed second wife" of the late Hon. Agyarko be made the Parliamentary candidate of our Party ahead of the bye-elections.

" . . We will like to state in clear terms that we will not support this agenda of Lydia Alhassan. We want a candidate who is a mother, a listener and win massively and, consolidate the gain we made in the last elections", portions of a statement by the concerned delegates read.

Addressing the issue on Peace FM's 'Kokrokoo' programme, Kwesi Pratt cautioned the two women to stop brawling over the Parliamentary seat like it's an "inheritance".
According to him, it doesn't paint a good picture about them because the late MP has not even been laid to rest.

Mr. Pratt found the actions of the two women not healthy for the family of the late MP stating emphatically "some people think political position is inheritance. Give it to me because my father has held the position before. My husband was the one holding the position and if he's not there, I'm the first wife; so give it to me. I am the second wife, I'm the wedded wife and so on. This inheritance politics is not democracy, we should be careful".

However, Lydia Alhassan, second wife of the late Kyeremanteng Agyarko has confirmed being approached to contest the seat, but refuted claims of her agreement to stand in the upcoming by-elections.

"I wish to clear the air and state that I have not expressed an interest in the upcoming bye elections in the Ayawaso West Wougon constituency. I have remained in a deep state of shock and mourning following the sudden demise of the father of the seven beautiful children of E.K, five of which I bore with him. I believe I can say same for Naana and her beautiful and kind hearted Jane and Sonny. Why anybody would want to do this to a family in mourning beats my imagination," she said.