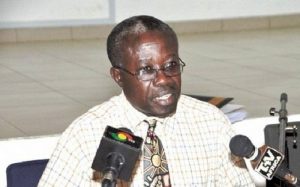 The Vice President of the Ghana Medical Association (GMA), Dr Frank Serebuor has stated that politicians lack confidence in the country's health care system hence their penchant for medical attention abroad when sick.
According to him, successive governments have failed to invest in the health system thereby fearing to access the various health facilities in the country.

Launching a scathing attack on politicians on Abusua Nkommo with Kwame Adinkra, Dr Serebuor explained that majority of the health facilities lack the necessary logistics which the politicians have turned a blind eye to it.

The GMA Vice President said it has become a norm for Ghanaian leaders and Africa as a whole to visit abroad for medical attention.

He observed that the shortage of oxygen and other logistics which end up killing patients have accounted for the constant medical attention in abroad by politicians.

'…The whole issue is that the politicians do not have confidence in our health care system, they are scared to access the public hospitals due to their inabilities to invest in the sector. Over the years, politicians have not painstakingly invested so much in our health care system. They only pay lip services. They are afraid to face the same challenges some patients face when they visit the public facilities,' he pointed out.
He charged the law makers to ensure that they make the health system attractive by pumping monies into the sector.

'They should start patronising the public hospitals, in order to solve the challenges the system is faced with,' he said.

Dr Serebuor advised Ghanaians to desist from politicising issues charging doctors in the country to exhibit professionalism in their line of duties.

'The system is not perfect, but we are working towards perfection so politicians should learn to express their fears to the doctors taking care of them to keep their medical records safe without leaking to the public,' he entreated.

According to him, most of the procedures conducted on sick politicians abroad are mostly performed on patients in some of the public health facilities citing Komfo Anokye Teaching Hospital (KMA).
He wondered why the politicians don't want to patronise their home hospitals but would choose to boost the economies of foreign countries.

His comments come on the back of the Vice President Alhaji Dr Mahamudu Bawumia who was flown to the United Kingdom, last week Friday to seek medical attention.

Majority of politicians have been criticised for traveling abroad to access quality health care thus abandoning the country's public health posts.