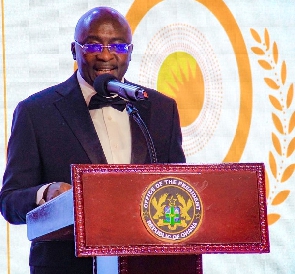 Vice-President Dr. Mahamudu Bawumia says the country is beginning to ride out the economic storm as the government fights hard to turn things around.
"We have been working while at the same time trusting in God because you do not just trust in God and sit and fold your arms and go to sleep, you have to work, so we have been working while at the same time trusting in God for his unfailing love and thankfully we are beginning to see the power of our lord manifesting in the improvements in our economic outlook."

The Vice-President made the point when he together with his wife Samira Bawumia joined the congregants of The Church of Pentecost, Dr. Thomas Wyatt Assembly for the 31st Watch-Night Service to usher in 2023.

While admitting the difficulties the nation has plunged into, Dr. Bawumia said "2023 should see us continue on the path of economic emancipation and accelerated development."
He prayed that Ghana would continue to remain peaceful in spite of the differences in ethnicity and religion.

"We are different people from different ethnicities and different religions but we are all children of God. What makes us unique is our unity in diversity and we should guard it jealously."

Some past and present Members of Parliament (MPs), ministers of state, and senior government officials also joined the Vice-President at the service.