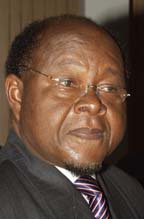 Fri, 23 Aug 2013 Source: Joy Online
A former Second Deputy Speaker of Parliament, Professor Aaron Mike Oquaye has said that Ghana's political leaders may not have the political will to share power.
Apart from the deep polarisation in the country now, the former Member of Parliament for Dome-Kwabenya Constituency, believes the two leading parties in the country - the governing National Democratic Congress (NDC) and New Patriotic Party (NPP) - may be too far apart ideologically to operate as a unit.

As Ghana awaits the Supreme Court's ruling on August 29, 2013, on the presidential election petition, there have been calls for the country to take a second look at the "winner-take-all" system of governance and adopt an all-inclusive, power sharing type of governance. These recent proposals have been necessitated by the seeming polarization of the country, arising from the election petition before the Supreme Court.

Metropolitan Archbishop of Accra, Most Rev. Charles Palmer-Buckle Thursday said on Adom FM's Dwaso Nsem morning show that, if the parties in the petition had considered the option of a Unity Government, they perhaps would not have "terrorized the nation" with the tension arising from the suit.

The Chairman of the National Democratic Congress (NDC), Dr Kwabena Adjei, has also called for a review of the "winner-take-all" style of governance to enhance national cohesion.

But speaking on Dwaso Nsem Friday morning, Professor Aaron Mike Oquaye said inasmuch as power sharing or a unity government was appealing, the differences in political orientation would make it "very difficult" for the country to adopt the power-sharing or the unity governance system.
A better option, Prof Oquaye proposed, would be to operate the proposed power-sharing system at the grassroots and community level.

Thus, the appointments of the various heads of institutions such as the Inspector General of Police "should not be at the mercy of the president."

Professor Mike Oquaye, who is also a renowned political scientist, insisted that more funds should be dedicated to the decentralization process to make it more efficient to implement the power sharing proposal should the country adopt it.

On his part, a Political Science lecturer at the University of Ghana, Dr. Bossman Asare endorsed the call for a unity government as a plausible way to unite the people of Ghana.

Citing examples of countries in Eastern Europe to buttress his call, Dr. Asare said such countries continue to bind together because they realized every group needed to have a voice in the governance system.
Source: Joy Online