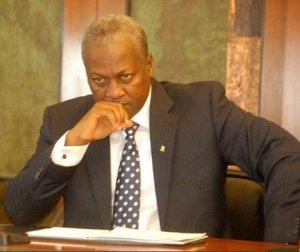 Sun, 20 Oct 2013 Source: peacefmonline
The current economic crisis facing the country has become an albatross on the neck of government as well as the entire country.

The opposition has been complaining, economists have been offering various suggestions and the Minister of Finance, Seth Terkper, has admitted the economy is in crisis, but the question is how to put the economy back on track.


Kwesi Pratt, Managing Editor of the Insight newspaper believes it is not just enough to lament and complain because "lamentations do not solve problems; government, opposition, everybody is lamenting; lamentation will not solve the problem. Let's see some real concrete practical action to move things forward".

He told Suhuyini Alhassan on Radio Gold's Alhaji and Alhaji that "there must be clear signs that this government means business and can perform by the end of December. There is no time to waste. People are crying, people are angry, and the president himself calling for patience is an indication that he realizes that, but the question is; is the president satisfied with what is happening? obviously not, and the changes must come and they must come now".

Source: peacefmonline