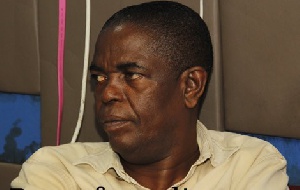 Fri, 11 Oct 2013 Source: peacefmonline
Managing Editor of the Insight newspaper, Kwesi Pratt Jnr., has lashed out at politicians describing them as deceitful for consistently failing to honour most of the promises they make to Ghanaians during electoral campaigns.
According to him, when they want power, political parties and politicians will go to great lengths to sweet-talk the electorate into giving them the mandate to rule, sometimes with unrealistic promises; but renege on their word upon the assumption of office.

He warned that if the trend is not checked, they risk losing the trust of the electorate who might not exercise their franchise again.

"Since 1992, it has been like that, they (Politicians) always lie to us (Ghanaians). They have sugarcoated mouth when in opposition and will give promises. When given the mandate, they then care less about the poor person whose vote secured them power.

"…They don't fulfill their promises, but rather think about 100% increment on everything. If they keep doing that, it will come to a time no one will vote again because they can't always deceive us," he said.

The Senior Journalist, who was speaking on Adom FM on the recent tariff increment, described the upward adjustment on utility tariffs which took effect on the 1st of October, as worrisome, especially after the NDC government cajoled Ghanaians to vote for them for a "Better Ghana".
To him, Ghanaians deserve better from the incumbent government, adding that the timing of the tariff increment was wrong.

"….most parents are sourcing for funds to pay their wards fees despite the hardship and to worsen things, tariff is increased…it's worrying," he added.

Whiles voicing his approval of the 10 day ultimatum issued by the Trades Union Congress (TUC) to Government and the Public Utilities and regulatory Commission (PURC) to slash the tariff increases to one-third or face a massive nationwide strike, Kwesi Pratt also rubbished reasons for the tariff increment announced by the PURC, accusing them of lacking the ability to manage their own affairs.

"TUC is in the right direction to send a strong signal to politicians that every promise made on campaign platforms must be fulfilled…Why should ordinary impoverished Ghanaians be made to pay for the mistakes of their leaders?" he quizzed.
Source: peacefmonline