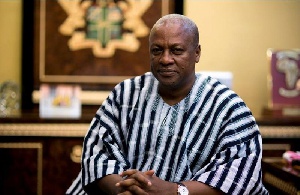 The National Organizer of the opposition National Democratic Congress(NDC), Kofi Adams says the NDC can rise to power again if former President Mahama accepts the calls to lead the party in 2020.
According to him, the party's chances to return to power is heavily dependent on Mahama, who by all standards remains the best bet for the largest opposition NDC.

"All those who mean well for the party and wants NDC to come back to power should pray that former President Mahama will accept the calls to lead us in 2020.

"Mahama is one of the greatest things that have happened to this party. If you look at his contributions, his additions in 2008, his candidature in 2012- what he did, and his international stature that yielded much results for this country, I think he's been a blessing for this country. And I believe that his work is not complete," Adams told host Fiifi Banson on Anopa Kasapa on Kasapa 102.5 FM Monday.

Some kingpins and supporters of the NDC have been calling on the former leader, John Dramani Mahama to consider running for the 2020 elections.
This call has however been shot down by Mr. Mahama's family who have advised him to call time in partisan politics.

Mr. Mahama and his NDC party suffered a humiliating defeat ever in the 2016 general elections, when the party lost power to the then opposition NPP.

His main contender, now President Akufo-Addo won the popular vote in six of Ghana's 10 regions as he secured 5,716,026 votes, representing 53.85% of the total valid votes cast, while he[Mahama] polled 4,713,277 votes, representing 44.04%.

A committee formed by the NDC party is moving round the country to elicit views from the grassroot why the largest opposition lost to the NPP.