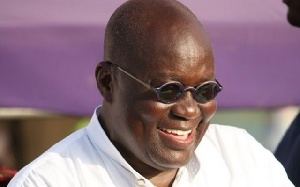 Sat, 17 Dec 2016 Source: GNA
The Presbyterian Church of Ghana (PCG)  Accra, and the Global Evangelical Church (GEC) have congratulated Nana Addo Dankwa Akufo-Addo, the President-elect, and his vice, Dr Mahamudu Bawumia, on their victory in the just-ended elections.   
Their goodwill messages were contained in separate statements, issued to the Ghana News Agency, in Accra.

The PCG's statement, signed by the Right Reverend Professor Cephas Narh Omenyo, the Moderator of the General Assembly, also commended the outgoing President, John Dramani Mahama and the other contestants for their high sense of maturity during the electioneering.  

It said the peaceful conduct demonstrated by the candidates was a reinforcement of the God- fearing, tolerant and peace-loving traits of Ghanaians, which it said must be emulated by other countries.  

"These are great strengths on which Ghana must build in our collective efforts to achieve our goals," the Church said.     

The Church also lauded all electoral stakeholders including, the Electoral Commission, the security services, the Judiciary and the media for working harder to ensure that peace reigned in the exercise.     
However, the PCG bemoaned the current reports about fracases between members of the two main political parties; New Patriotic Party and the National Democratic Congress, saying it was ungodly and it could derail the peace of the nation.   

The PCG called on the public to keep praying for the favour of God as it said, it was only God's favour which could make Ghana prosperous.    

It also observed that all the candidates who contested the presidential race sought the favour of God during their campaign tours, which it said, should be continued as more prayers were needed to ensure that the aftermath of the elections would not rob the nation of its peace.     

The Global Evangelical Church, whose statement was signed by signed by the Rt. Rev, Dr Setorwu Kwadzo Ofori, the Moderator of the Church, said, "As a Church, we are aware of the demanding task ahead, which could only be achieved through concerted efforts on the part of all citizens."  

It said its members would thus work hard to push the national agenda for a prosperous Ghana.
The Church entreated the unsuccessful parties to find solace in their love for the country and give peace a chance, saying, "The Bible exhorts in Romans 12:18 that 'if it is possible, as far as it depends on you, live at peace with everyone'".

"We wish to use this occasion to exhort our fellow citizens to rise to the new era God is ushering the country into and lend support to the vision of the in-coming administration," it said.

"We pray that all Ghanaians whether with affiliation to the party in power or not, would rally behind the winning team for national development.

"While thanking God for doing His ultimate will, we wish to assure the new leadership of our constant prayer for guidance and blessings, as you embark on your new responsibilities from January 7, next year.

"We are confident that by the grace of God, the Akufo-Addo-led Government would live up to expectation by fulfilling the promises made to Ghanaians."
Source: GNA