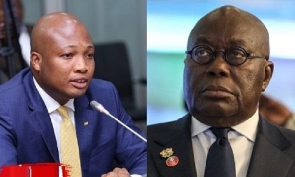 NDC Member of Parliament(MP) for North Tongu constituency, Samuel Okudzeto Ablakwa has obtained documents from the Presidency which confirms that President Akufo-Addo, his Secretary Nana Asante Bediatuo and Chief of Staff, Madam Frema Osei Opare all knew about the double identity scheme of Secretary of the National Cathedral of Ghana Board of Trustee, Mr. Kwabena Adu Gyamfi (a.k.a. Rev Victor Kusi Boateng) during the presidential approval process to grant him a diplomatic passport.
In a series of posts on his Twitter handle, the NDC MP said the presidency did not raise objections on conduct which the Human Rights Court has described as bordering on criminality.

"Presidency became most complicit in granting express approval for a diplomatic passport and instructing the Foreign Minister to issue diplomatic passport all between the 3rd and 10th of November 2021 when the Office of the President received the unlawful request," he posted.

According to him this disclosure clearly make the Akufo-Addo presidency deeply complicit and as guilty as sin for actively facilitating and erecting this "criminal double identity ediface."
"Ghanians will now fully understand why President Akufo-Addo is unable to fire Rev. Victor Kusi Boateng/Kwabena Adu Gyamfi from the Natonal Cathedral Board of Trustees...and why the Akufo-Addo/Bawumia/Dame government is alos unable to inititae criminal prosecution against Kusi Boateng/Adu Gyamfi despite incessantly persecuting political opponents," he tweeted on Thursday morning.

See below letters obtained from the presidency: