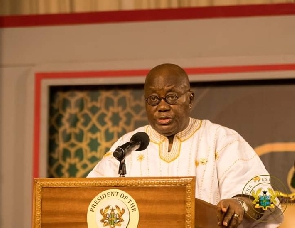 The President, Nana Addo Dankwa Akufo-Addo has expressed appreciation to key persons and organisations for their immense contribution during the fight against the COVID-19 pandemic.
These words of acknowledgement from the President were contained in the last of the 'Fellow Ghanaians' series on COVID-19 made on May 28, 2023.

During the update, the President, Nana Akufo-Addo commended the pharmaceutical and textile industries, the Ghana Airport Company Limited and others for the significant roles they played during the fight.

"I pay homage to the pharmaceutical and textile industries, and to the many corporate bodies that made generous donations and rallied to the call for enhanced domestic production of medical supplies. The Ghana Airport Company must be mentioned for the hard work of its staff.

"The Ghana Education Service and the Director-General that saw us through the school closures and re-openings, thank you. And thank you to its sister body, the Ghana Health Service, and its dynamic Director-General, both of whom gave such impressive accounts of themselves during this crisis," he said.

The President also exoressed how proud he is of the Ghana National Ambulance Service and the digital technologies that were deployed to win against the COVID-19 Pandemic.
"It would be greatly remiss of me not to place on record my appreciation to the National Ambulance Service and its workers. They worked well and we are proud of them. I acknowledge the fact that digital technologies and drones helped very much in getting vaccines and medications to hard-to-reach areas, and I am glad they have become an integral part of our health delivery system.

"If we were still looking for any proof, we found that the high use of mobile phones and the digitalization agenda helped in the surveillance process, particularly with contact tracing and patient follow-up.

He also makes a single mention of the Vice President, Dr Mahamudu Bawumia and others for being his reliable support during his darkest and trying moments.

"I am indebted to the Ministers of State, officials of the Presidency, led by the Chief of Staff, the Parliament, and the Judiciary, and all the members of the brilliant COVID-19 Taskforce. I must make special mention of the Vice President, Dr Mahamudu Bawumia, who was my reliable source of support in the darkest and most trying moments," he continued.

The Fellow Ghanaians series was a means through which the President communicated to the public the updates in figures and fight against the Corona Virus Pandemic.
Share your news stories and ideas with GhanaWeb




To advertise with GhanaWeb




You can also watch the latest episode of People & Places:




NW/WA