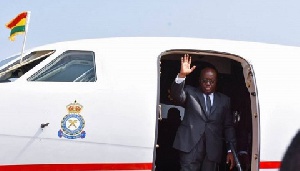 Fri, 23 Feb 2018 Source: Flagstaff House Communications Bureau
The President of the Republic, Nana Addo Dankwa Akufo-Addo, left Ghana on Friday, 23rd February, 2018, for a 10-day visit to Togo, the United States of America, and Germany.
Whilst in Togo, President Akufo-Addo will resume the mediation efforts he is making in the dialogue, begun on 19th February 2018, with representatives of the Government of President Faure Gnassingbé, the Union for the Republic Party, and the Coalition of 14 opposition parties, aimed at finding a lasting solution to the political impasse in that country.

In the United States of America, the President will address the National Governors Association (NGA) Winter Meeting, in Washington, DC, thereby becoming the first African leader to address the 50 US Governors at an NGA meeting.

President Akufo-Addo will also take part in the World Leader's Forum programme, organised by the American-Israel Public Affairs Committee (AIPAC).

In Germany, the President will deliver the keynote address at the 5th German-African Economic Forum, in Dortmund, being held under the auspices of the Minister-President of North Rhine-Westphalia, Herr Armin Laschet.
He will also deliver the keynote address at the Konrad Adenauer Foundation's German-Ghana Business Forum.

Prior to leaving Germany, President Akufo-Addo will hold bilateral talks with German Chancellor Frau Angela Merkel, aimed at strengthening the ties of co-operation that exists between the two countries.

The President will return to Ghana on Monday, 5th March 2018, and in his absence, the Vice President, Alhaji Dr Mahamudu Bawumia, shall, in accordance with Article 60(8) of the Constitution, act in his stead.
Source: Flagstaff House Communications Bureau