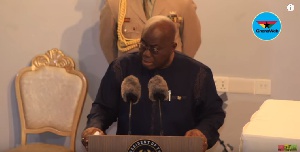 President Nana Addo Dankwa Akufo-Addo has expressed optimism of his government's ability to create employment for the teaming unemployed youth which is the greatest challenge confronting the nation.
He said his administration is working vigorously to fulfill all campaign promises adding that, the promises he made were not for political power but for the development of the country.

President Akufo-Addo, in a speech read on his behalf at a durbar of chiefs and people of Cape Coast during this year's Oguaa Fetu Afahye, affirmed his administration's commitment in building a new Ghana where Ghanaians would live in peace and prosperity.

President Akufo Addo mentioned some of the initiative being rolled out by the Government and highlighted the implementation of the Free Senior High School policy as one of the key initiatives that government cherished in the development of the human resource base of the country.

The president urged parents to take advantage of the policy as it would help lessen their burden in an attempt to enroll their wards in senior high schools.

He expressed government's commitment in resolving the challenges of the National Health Insurance Scheme (NHIS) to promote quality healthcare delivery in the country

The President said the creation of three Development Authorities set to be carried out would fast-track the development of agenda of the government.
Osaberima Kwesi Atta II, the Paramount Chief of the Oguaa Traditional Area, expressed concern about the falling standards of education in the Cape Coast metropolis and called for appropriate mechanisms to reverse the trend.

He also expressed worry about the situation where students from the area did not get admission into some of the "well endowed" senior high schools in the metropolis despite having the required passes to be enrolled into such institutions

Osabarima Kwesi Atta called for the implementation of a policy that would ensure that students from the area with the required passes were given consideration for enrolment into senior high schools located within the metropolis.

He asked government to allocate a fraction of the revenue from the Cape Coast Castle as payment of royalties to the Traditional Council and the Cape Coast Metropolitan Assembly (CCMA) for the development of the metropolis.

Mr Kwamina Duncan, the Central Regional Minister, assured the chiefs and people of Cape Coast of the government's commitment towards ensuring the development of Cape Coast and the Central Region in general.