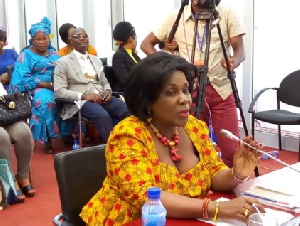 The President's vision to make Accra the cleanest city in West Africa, can be achieved with the right support from the citizenry.
It is therefore important for all stakeholders to continue with their efforts to ensure standard sanitary conditions in the country.

Madam Cecelia Dapaah, Minister for Sanitation and Water resources, said this at the Eighth National Development Forum on the Sustainable Management of Ghana's Sanitation, which was held in Accra last night.

She said poor sanitary practices, deprived the country of resources, that were needed for Ghana's over all development.

The Minister said Ghana was for example blessed with 53 billion cubic meters of water, "but we are destroying our water bodies through illegal mining, the use of pesticides, and poor solid and liquid waste disposal."

She said there were basic things that people could do to promote a clean environment, such as ensuring that homes were not built without toilet facilities.
The Minister also said it was important for everyone to treat their surroundings with care, and realise that refuse that were disposed carelessly, would not automatically disappear, but would only contribute towards destroying the environment.

Madam Dapaah said her ministry was putting in basic measures to promote good sanitation, such as the one house one refuse bin policy,

She said there was a deployment of refuse bins for pedestrians, adding that out of a target of 20,000 bins to be deployed, 5,100 had already been placed at vantage points.

The minister said plans were afoot to establish the National Sanitation Authority, which would be highly instrumental in ensuring proper management of sanitation in the country.

Mrs. Ama Gbadago, Executive Secretary, Environmental service Providers Association, said with the private sector partnering the assemblies, door to door waste management services had improved.
She said the private sector was eager to partner government to ensure good sanitary conditions in the country.

"All we want from government is an enabling environment, where we have clear guide lines," Mrs. Gbadago said.

Professor (Prof) Esi Awuah, Former Vice Chancellor, University of Energy and Natural Resources, and chairperson for the event, said there was the need for a coordinated approach from all stakeholders, to ensure effective management of the country's sanitation.

She said it was also important to evolve strategies, based on the unique circumstances pertaining in the country, in order to be successful.

The programme was organised by the National Development Planning Commission.