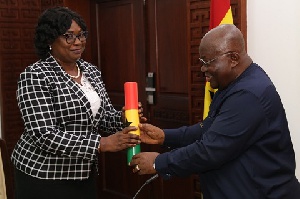 President Nana Addo Dankwa Akufo-Addo on Tuesday swore into office the first Deputy Special Prosecutor, Ms Jane Cynthia Naa Korshie Lamptey, charging her to execute her mandate without fear or favour.
He told Ms lamptey, a lawyer with over three decades of legal experience, that though the task ahead was difficult, she should discharge her duties vigorously in accordance with the Rule of Law.

At a short ceremony at the Jubilee House in Accra, where the President administered the Official and Secrecy Oaths to Ms Lamptey, he declared that with the swearing-in of the Deputy Special Prosecutor, the path was now cleared for him to present to the Council of State, a list of the persons who would constitute the Governing Board of the Office of Special Prosecutor.

He was optimistic that the process would be fast tracked for the Board to commence work in earnest.
The President reminded the Special Prosecutor and his deputy that the establishment of the Office of Special Prosecutor was for a high purpose and should not, therefore, under any circumstance, be used as an avenue for persecution or vengeance.

He reminded them of the high expectations Ghanaians had of the Office to rise to the challenge to fight and eliminate corruption from public life, and gave the assurance that government would lend the needed support to enable the institution achieve its mandate.

Ms Lamptey, a former Acting Director of Public Prosecutions, thanked the President for the confidence reposed in her and gave the assurance that she would bring integrity and honesty to bear on her work.