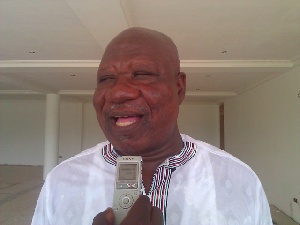 Central Regional Chairman for the National Democratic Congress (NDC), Allotey Jacobs has lauded President Akufo-Addo for his 'excellent delivery' at the media encounter yesterday.
The President had his maiden meeting with the media at the Flagstaff House on Tuesday, 18th July, 2017.

Allotey Jacobs contributing to a panel discussion on Peace FM's morning show 'Kokrokoo' also commended the President especially for saying he was not going to chase former President Mahama's appointees.

"President was on top of the show, he was candid with questions and excellent in delivery," he told Kwami Sefa Kayi.

On the otherhand, the NDC regional chairman was not enthused with how Vice President Mahamudu Bawumia answered the question on Ghana's debt.
According to Allotey Jacobs "he didn't do the presidency good."

Listen to Allotey Jacobs on Nana Addo's press briefing