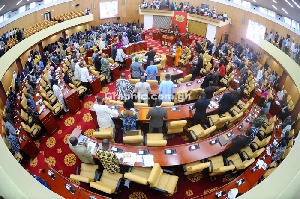 A Ranking Member of the Constitutional, Legal and Parliamentary Affairs Committee of Parliament, Alhaji Inusah Fuseini says parliament would not be able to fulfil the president's wish to have the Right to Information (RTI) bill passed before the house rises.
According to the Vice President Dr. Mahamudu Bawumia, cabinet has given approval for the bill to be laid and passed by parliament.

At the Independence parade on March 6, President Akufo-Addo was upbeat about getting the almost two decades old bill passed in March.

"After many years of hesitation, we intend to bring a Bill again to Parliament and work to get it passed into law before Parliament rises," he stated.

But the Member of Parliament for Tamale Central, Inusah Fuseini told TV3 the president was not well-informed when he made that promise.

The house is expected to rise for the Easter break on Friday, March 23.

"I think that the president was not adequately informed of the calendar of parliament, that is why on 6th March he said that we will pass it in this sitting, we can't pass it in this sitting," he asserted.
"I have had discussions with the chairman [of the Constitutional, Legal and Parliamentary Affairs Committee], we have agreed that when the bill is laid, we will take it through the same procedure that we took the office of the special prosecutor bill through."

He explained that there will be a stakeholder engagement for two days in parliament to be followed by a two-day "consideration, clause by clause" at another venue probably outside the national capital, Accra.

"If it is laid before we rise, by the time we come back, the report will be ready. We are prepared to work during this break to ensure that the bill is ready."

The RTI Bill is expected to make information easily accessible by the media and Ghanaians to boost the fight against corruption. The bill has been in and out of Parliament since 2003, because successive governments have failed to pass it into law.

Meanwhile, Dr. Rasheed Draman, Executive Director, African Centre for Parliamentary Affairs (ACEPA) is cautioning that the RTI is "not an ordinary bill to be rushed through."

He, therefore, urged stakeholders to thoroughly go through the bill before it is passed by parliament.