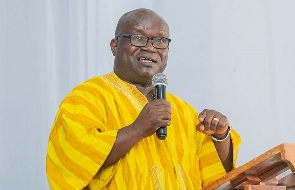 Dr. Kenneth Ashigbey, the Convener of the Media Coalition Against Galamsey (MCAG), is urging media and civil society groups to exert pressure on leaders to ensure the prosecution of the directors of Akonta Mining Limited.
According to Dr. Ashigbey, the directors of Akonta Mining Limited have caused significant devastation to water bodies and lands within their concession. He believes that the prosecution of these individuals has been delayed for far too long.

To address this issue, Dr. Ashigbey is calling upon civil society organizations and the media to initiate a robust advocacy campaign. The objective of this campaign would be to ensure that the directors of Akonta Mining Limited face legal consequences for their actions.

The group met with senior officials of the Criminal Investigations Department (CID) of the Ghana Police Service (GPS) on Thursday, June 8, 2023, to discuss the progress of the investigation into Akonta Mining Limited's mining activities in the Tano Nmira Forest Reserves.

During an appearance on Eyewitness News on Citi FM, Dr. Ashigbey emphasized that there is substantial evidence to demonstrate that Akonta Mining has violated the regulations set forth by the Minerals Commission. Given this evidence, he expressed his expectation that appropriate action would have been taken against the company, resulting in their appearance in court by now. Dr. Ashigbey highlighted the disappointment surrounding the delay in prosecuting Akonta Mining, considering the significant passage of time.
He explained, "If you take our Constitution, sovereignty resides in the people. The same Constitution also gives the media the mandate to hold leadership to account. You need to make sure that the Director General of CID, the Attorney General, and the judiciary ensure that the likes of the directors of Akonta Mining and other influential people, including Aisha Huang and Yaw Danso Bosome Freho, the former District Chief Executive, are brought to book."

The Convener of the Media Coalition Against Galamsey posited that it would be meaningless for leaders to plant trees without safeguarding the existing forests.

"It is really important that leaders take action. Today, we are out there planting trees. For example, in the case of Akonta Mining, the number of trees that have been cut down from these forests is alarming. As much as we want to plant trees, we need to ensure that we safeguard our forests, cocoa, and not support this illegality. It is important that all of us, including civil society and the media, ensure that we get leaders to do what they ought to do," Dr. Ashigbey asserted.

EAN/WA