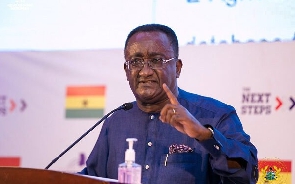 Ghana can leverage on agriculture as a solution to weaning itself off the clutches of the International Monetary Fund (IMF), the immediate past Minister of Food and Agriculture, Dr Owusu Afriyie Akoto, has stated.
"I'm saying that we need to prioritise agriculture in terms of public allocation of funds. Our budget should prioritise agriculture and if we do that, the farmers will be able to produce so much for export and food security that we would not need to go and borrow money to finance our debts," he said in an interview with the state-owned Daily Graphic.

He stressed that with priority given to the sector, "we should be able to get money to fund all our development activities including industrialisation, education, health, infrastructure and all those needs."

Zooming in on the area of tree crops alone, Afriyie Akoto advanced that enough revenue could be raised by government to manage the economy.

He mentioned the Tree Crops Development Authority, which was currently established under an act of Parliament, Act 2019, (Act 1010) as a positive move in that direction but which was not followed through.
"The body itself, which is headquartered in Kumasi, was inaugurated by the President, Nana Addo Dankwa Akufo-Addo, in 2020. The only problem is that the seed fund that is required for them to take off is not adequate enough.

"Out of $5 million yearly for three years making $15 million needed for them to really take off, as we speak, they are in their third year but only $1.3 million has been disbursed," he said, describing the TCDA as having the potential of raking in revenue between $6 billion and $12 billion.

Dr Akoto pointed at neighbouring Ivory Coast which had leveraged on five commercial tree crops of cocoa, coffee, cashew, oil palm and rubber, to generate between $6 billion and $8 billion annually.

He said, a properly functioning TCDA with cashew, rubber, oil palm, mango, coconut and shea had a better chance of raking in more because Ghana had better and more land as compared to Ivory Coast.