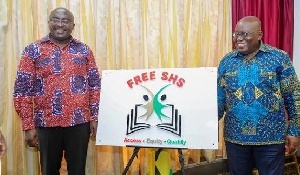 The Conference of Private Second Cycle Schools (CHOPSS), have threaten to lay off all graduate teachers on their pay roll over the implementation of Free SHS policy.
Mr Fred Asare, the Central regional chairman of the conference says the New Patriotic Party (NPP), government must expand the policy to cover private schools across the country.

Speaking on Rainbow radio in Accra, the executive member insisted that government must allocate the Free SHS funds to individual beneficiaries for them to decide whether to choose private SHS education or that of the public SHS.

Mr Asare in his conversation lamented that government is deliberately neglecting private schools therefore did not consult them before Free SHS implementation despite their collaboration.

The CHOPSS chairman argued that, private schools will have no option than to lay off graduate teachers in their schools should government fail to address their concerns.

Mr. Asare said, CHOPPS members are surprised why government is sidelining them despite their constant engagement with the Educational Ministry.
When asked why many private schools across the country charge exorbitant fees, Mr Asare indicated, "we have those that charge in dollars because they write foreign exams. We also have the main stream private schools with moderate fees because we all write WASSCE just like any other public school".

At a press conference yesterday CHOPSS expressed its disappointment with the effect the policy is having on admissions in private schools, with reports that enrollment of first-years has dropped significantly.

Joseph Dzamesi, the National Secretary of CHOPSS, in an address disclosed that the Free SHS policy has rendered them jobless.