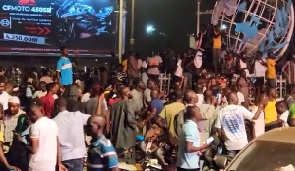 Hundreds of people poured into the streets of the Burkinabe capital, Ouagadougou on Tuesday evening (September 26), with reports stating that they were engaged in a pro-junta march.
The march comes in the wake of rumours that the Colonel Ibrahim Traore-led junta was facing an internal coup.

Even though some media outlets claim the coup was organized by some insiders in the junta, GhanaWeb is unable to independently verify that claim.

Videos and photos sighted by GhanaWeb showed a mobilization that was dominated by men, few women and fewer children at a roundabout in Ouagadougou, some chanting slogans, others singing whiles others simply looked on.

People are heard tooting their horns while others blow whistles and rubber trumpets in the busy intersection.
Burkina Faso is one of four West African countries that have experienced a coup in recent years.

The first was the removal of Christian Roch Marc Kabore from office in 2022 by then junta leader Sandaogo Damiba, who six months on was also deposed by the Ibrahim Traore-led junta.

Insecurity was one of the main trigger factors for the last two coups, the spate of killing has not abated since Traore took over.

Burkina, Mali and Niger (all currently under juntas) are currently in an Alliance of the Sahel Nations aiming to combat spreading terrorist violence.
Situation is pretty much unclear atm but local influencers called civilians in the streets in order to oppose any new putschist

If anything ill make a thread about it but for now there's nothing letting me think about a coup ongoing

— Casus Belli (@casusbellii) September 26, 2023
Breaking ????- Burkina Faso ????????- at moment in Ouagadougou, September 26th, 2023, the youth were heading out to to the meeting place called "Rond-point des Nations Unies", because there were rumors of another attempt of a coup against @CapitaineIb226. The name of

I told you, we… pic.twitter.com/jnYT3ltCnF

— Sy Marcus Herve Traore (@marcus_herve) September 26, 2023
????????????#BurkinaFaso: craignant un coup d'État depuis que des tensions sont apparues au sein de l'armée, le chef de la junte, Ibrahim Traoré, a mobilisé ses soutiens mardi soir à Ouagadougou. Objectif : « empêcher un putsch ». pic.twitter.com/Kb0VSm9N6j

— LSI AFRICA (@lsiafrica) September 26, 2023
Dernière minute : Tentative de coup d'Etat en cours au Burkina Faso ?

Situation confuse à Ouagadougou où certains citoyens se sont mobilisés par crainte d'un coup d'état qui serait en cours.

Cette situation arrive au moment où des rumeurs faisaient état de vives tensions entre… pic.twitter.com/YoH3h0Kb9l

— aConakry Live (@aConakryLive) September 27, 2023
SARA

Ghana's leading digital news platform, GhanaWeb, in conjunction with the Korle-Bu Teaching Hospital, is embarking on an aggressive campaign which is geared towards ensuring that parliament passes comprehensive legislation to guide organ harvesting, organ donation, and organ transplantation in the country.

Watch the newest episode of The Lowdown on GhanaWeb TV below