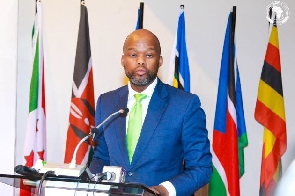 The private sector's proactiveness in seizing trade and investment opportunities presented by the African Continental Free Trade Area (AfCFTA) is critical to the success of the programme, South Africa's High Commissioner to Ghana, Grace Mason, has said.
This, she said, will inspire investment-led growth on the continent under the programme, which is expected to present major opportunities for African countries to bring 30 million people out of extreme poverty and raise the incomes of 68 million others who live on less than US$5.50 per day, according to the World Bank, if implemented successfully.

The implementation includes trade facilitation measures that cut red-tape and simplify customs procedures, helping to usher in the reforms necessary to enhance long-term growth in African countries.

Speaking at the Brand South Africa Business Roundtable in Accra, Ambassador Mason also made a clarion call on businesses on the continent to participate in the Guided Trade Initiative (GTI), a pilot project to accelerate trading among countries and the testing of operational, institutional, legal and trade policy environment under the AfCFTA.

"The AfCFTA is being implemented with much-needed speed, and is gaining momentum as we have positive testimonials through the launch and implementation of Pan African Payment and Settlement System, adoption of key protocols on investment, competition and intellectual property rights. These are important for investor attraction and protection and it will also provide policy certainty desired by investors," she said.

SA investments in Ghana
According to the Ghana Investment Promotion Centre (GIPC), the country attracted a total of foreign direct investments inflows of US$2.6billion in 2020. Out of this figure, US$242million investment was made by South African companies, an indication of the confidence South African investors have in Ghana's conducive and business-friendly environment, said Mason.

"We have since added a few investment projects; for example, ONIX Data Centre, which invested over US$25million in the past year, Ocean Basket and Roco Mamas," she said.

There are over 200 South African companies registered in Ghana, employing over 19,087 Ghanaians and 510 expatriates, according to the GIPC, undertaking over 170 projects in the country valued in excess of USD$1.4billion in capital investment over the past decade.

Branding key investment driver

On her part, the Acting Manager of Research at Brand South Africa, Shamiso Hlatshwayo, stressed on the essence of branding as a key driver in investment promotion.
"Any country has the ability to inspire a particular motion in people and once you have planted the seed or how you make people feel and how they view your country – that will automatically translate into whether people will invest in your country, people will buy your product, people will make the decision to travel to your country," she said.

According to her, the 'The Year of Return' initiative by the government, in partnership with U.S-based Adinkra Group, has had a great influence on the world's perception about Ghana.

Continue to view Ghana an investment destination

Meanwhile, the Deputy Chief Executive Officer of GIPC, Yaw Amoateng Afriyie, urged South African investors to continue to view Ghana as an investment destination despite the current challenges, assuring that: "We will continue to do our part to remove the barriers and bottlenecks to smoothen out the environment for you to be able to invest and trade in Ghana.