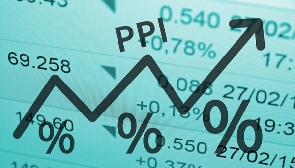 The Producer Price inflation rate for August 2023 declined to 28.3 % from the 32.9% recorded in July, representing a 4.6% point decrease.
The Industry sector declined by 0.6 percent to record 30.6 percent in August. The rate in the construction sector increased by 6.8 percent to 24.6 percent in August.

The Services sector's rate remained unchanged to 15 percent.
Government Statistician in a release attributed the decrease to Electricity and gas recording 68.3 percent, Transportation and storage 37.3 percent, Mining and Quarrying sub-sector declined by 0.3 percentage points to 32.8 percent in August 2023, Accommodation and food recorded 27.0 percent, the Manufacturing sub-sector declined by 1.0 percentage points to 23.5% percent in August 2023, the Water Supply, Sewerage, and Waste Management Sub-sector recorded an inflation rate of 38.1 percent and Information and communication recorded 11.0 percent.