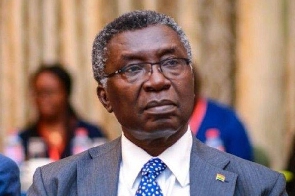 The former Minister of Environment, Science, Technology and Innovation, Prof Kwabena Frimpong-Boateng, has defended his son's ownership of a mining concessions in the country.
According to him, contrary to assertions in the public, his son, Jojo Frimpong-Boateng, has not committed any illegality with the mining concessions he owns.

Speaking in an interview on GTV, on Thursday, April 27, 2023, Prof Frimpong-Boateng said his son used the right tools for the preparatory works on his mines and started mining when the state gave him the go ahead.

He also refuted claims that there was some foul play in the registration of Jojo Frimpong-Boateng's mining company.

"I had a company called Symphony which was registered in 1990 or so, which does various business. My son finished his national service at AngloGold Ashanti… in Obuasi and he said looking at how the environment was being destroyed (by mining), he wants to start a large-scale company that will be exemplary.

"He wanted to register a company, so I said don't do it, just take my old company to Registrar Generals Department and add mining company to it. So, he went ahead and he was given several concessions then he decided that he could not work on five concessions so he gave three away and he concentrated on two.

"On the two concessions, he did recognisance studies and after the studies, if you go to the field, you will not even notice that someone has been to the forest. After that, he started prospecting the land and it was done in such a way that if you go there, you will not even see a trace of any machine," he said.
"He did an exemplary work, he did proper recognisance, proper prospecting without disturbing the soil or water or the forest in any way. That is how it is supposed to be done, not taking excavators to the forest and digging everywhere and mining for gold in the guise of recognisance or prospecting," Prof Frimpong Boateng reiterated.

The former science and technology minister has been criticised by some factions in the public, following his release of a report on illegal small-scale mining in Ghana which cited top officials in the government.

Some say he (Prof Frimpong-Boateng) has exonerated himself and his son as they are also beneficiaries of illegal small-scale mining, galamsey.

Watch the interview below:



Meanwhile, watch the latest episode of People and Places on GhanaWeb TV below:


IB/DO