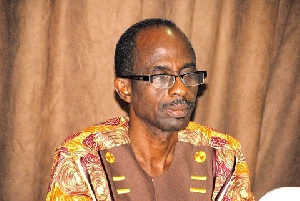 The General Secretary of the opposition National Democratic Congress (NDC) Johnson Asiedu Nketia has said the Speaker of Parliament, Rt. Hon. Prof Aaron Mike Oquaye is too weak to effectively perform his duties.
According to him, even though he commends President Nana Akufo Addo for honouring Rt. Hon. Mike Oquaye for his dedicated service to the country over the years, his observation of the Speaker revealed that the latter lacks the physical strength needed to run that high office of the land.

Prof. Mike Oquaye at dawn on Saturday, January 7, 2017, was sworn in as the 6th Speaker of the 7th Parliament of the Fourth Republic to head the Legislative arm of government for the next four years.

The 72-year-old Lawyer and Political Scientist occupies that esteemed office with considerable experience having served as the 2nd Deputy Speaker of Parliament from 2009 to 2012.
Speaking on Asempa FM's Eko Sii Sen show on Tuesday, Johnson Asiedu Nketia stated that he doubts if the Rt. Hon. Speaker who he described as his friend will have the needed strength to discharge his work as efficiently as it should be.

" The other day, I saw the way he was walking and I realised that the man was frail but it is good that Nana Akufo Addo has honoured a senior statesman such as Mike Oquaye at this time of his (Oquaye's) life having sacrificed for the country. But I doubt he'll have the strength to do his work well going into the future. He's my friend and I know how he used to be active, he's weak though but it is good he's been honoured."

He added: "We gave the same position to Rt. Hon. Joyce Bamford Addo when we came to power in 2009, but when she was given that position, she wasn't as frail as Mike Oquaye is now, but even she, did only one term in office. I think that is the same strategy adopted by President Akufo Addo. I say it's good that he's been honoured because he's toiled for Ghana. As he sat down the other day, I observed that about every five minutes someone came to him and wiped his head with a handkerchief, and I didn't understand what that act meant," Asiedu Nketia noted.