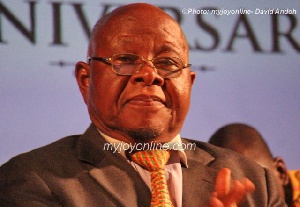 President-elect Nana Akufo-Addo in consultation with the Council of Elders of the New Patriotic Party has nominated former Member of Parliament for Dome-Kwabenya, Prof. Mike Aaron Oquaye as the next Speaker of Parliament.
Joseph Osei Owusu, Member of Parliament for Bekwia has also been nominated as the First Deputy Speaker of Parliament, with the Minority side of the House expected to name the Second Deputy.

If confirmed by the House, Prof. Ocquaye would replace Rt. Hon. Edward K. Doe Adjaho as Speaker of Parliament.

The 6th Parliament under the 4th Republic is expected to be dissolved by midnight on Friday.

Background
Aaron Mike Oquaye was born April 4, 1944 is a Ghanaian politician who served as the Second Deputy Speaker of the Parliament of Ghana between 2009 and 2013.

A member of the New Patriotic Party (NPP), he was the MP for Dome-Kwabenya from 2005 to 2013.

He was Ghana's High Commissioner to India to India from 2001 to 2004, then Minister of Energy from 2005 to 2006 and Minister of Communications from 2006 to 2009.