But for the benevolence of Ghana's Speaker of Parliament, Prof Mike Aaron Oquaye, an expectant mother would have been left to struggle in the cells of the Nsawam Female Prison.
Akosua Sarfowaa who is carrying a five-month-old pregnancy and a mother of a one-and-half-year-old boy was sentenced to two years in prison following her inability to pay a fine of GHC3400 despite her condition.

A report by Crime Check Foundation reveals Akosua was charged with assault for hitting her husband's girlfriend with a sandal during a fight.

Narrating her offence to the Crime Check Foundation, Akosua said, "her husband brought in his girlfriend into the house and gave the lady her dress to wear. She couldn't believe what was unfolding in her eyes and could not contain the humiliation. She confronted the lady and a fight ensued. In the course of the struggle, she hit the lady with a sandal she laid hands on".

She was then arrested and put before a circuit court in Suhum where she was convicted for assault and asked to pay a total fine of GHC3400 or in default serve two years in jail.

The heavily pregnant woman was, however unable to pay her fine and had to go to jail along with her one-and-half-year-old son.
Following the report by the Crime Check Foundation, news on Akosua's condition went viral on social media and upon reaching the Speaker of Parliament, he decided to pay the fine and get the vulnerable young expectant mother released.

He paid the fine of GHC1400 and another GHC2000 for the injuries caused to "victim", making it a sum of GHC3400.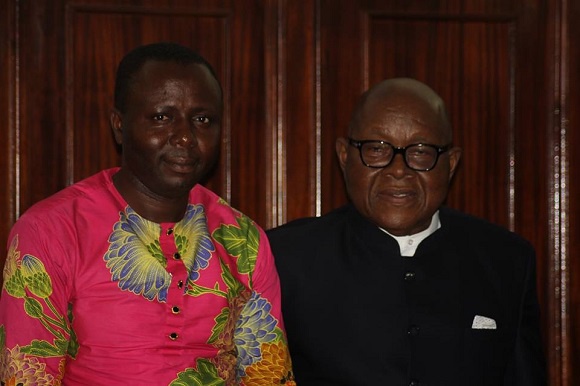 Prof Mike Aaron Oquaye with the Executive Director of the CCF

In an interaction with the Executive Director of the Crime Check Foundation (CCF), Ibrahim Oppong Kwarteng, Prof. Aaron Mike Oquaye expressed concern about the gaps in Ghana's laws which have seen many people serving various jail terms instead of committing them to community sentences.
"Why should a pregnant woman and her unborn child be committed to prison sentence when other alternatives could be explored to save the situation?" Prof. Oquaye quizzed.

He, therefore, promised Parliament will quicken the passage of the Non-Custodial Sentencing Bill into law to save the poor and vulnerable from being jailed "wrongfully".