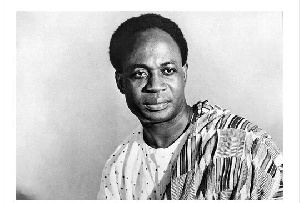 The Director of the Institute of African Studies, University of Ghana (UG), Professor Dzodzi Tsikata, has hailed Osagyefo Dr Kwame Nkrumah's pioneering role in laying out a revolutionary vision for African Studies in African Universities.
She said the African Studies championed by Ghana's first President, was vastly different from that which had driven the establishment of African studies centres outside the continent.

Prof Tsikata gave the commendation at the opening of the Second Biennial Conference of the African Studies Association of Africa (ASAA) in Accra.

The three-day conference, on the theme: "African Studies and Global Politics", is being attended by more than 260 participants from across the globe, with 142 of them coming from Africa.

The ASAA was established in 2013, during the climax of the 50th Anniversary celebrations of the Institute of African Studies at the UG, to promote Africa's own specific contributions to the advancement of knowledge about the peoples and cultures of Africa and the Diaspora.

The ASAA is currently the only multidisciplinary and trans-disciplinary professional association on the continent dedicated to the study of Africa from an Africanist perspective; what Kwame Nkrumah, referred to as studying our societies and experiences in an African-centred way.
She quoted Dr Nkrumah as saying, when he inaugurated the Institute at the University:"One essential function of this Institute must surely be to study the history, culture and institutions, languages and arts of Ghana and of Africa in new African-centred ways — in entire freedom from the propositions and pre-suppositions of the colonial epoch, and from the distortions of those professors and lecturers who continue to make European Studies of Africa the basis of this new assessment.

"By the work of this Institute, we must re-assess and assert the glories and achievements of our African past and inspire our generation, and succeeding generations, with a vision of a better future."

Prof Tsikata said it was this vision that continued to animate them at the Institute of African Studies and drove their teaching, learning and knowledge production, dissemination and outreach activities that showcased and critically engaged Africa's values, philosophies, aesthetics, cultures and innovations.

She said it was also this vision which drove them to establish the Nkrumah Chair in African Studies in 2005.

"It is the same vision, which has led us to embrace the idea of ASAA, which was established here at the University of Ghana during the 50th anniversary celebrations of our Institute in 2013," she said.
"We considered ASAA a natural outgrowth of our collective efforts to centre knowledge production and dissemination about Africa.

"Our commitment to ASAA now and in the future is unquestioned, and we will continue to offer the needed support to grow ASAA from strength to strength."

Prof Tsikata said: "In terms of its vision, mission and goals, the Institute sees the ASAA as reinforcing its vision of a dynamic, vibrant and effective African Studies which is able construct a new Africa through knowledge production."

Prof Akosua Adomako Ampofo, a Founding Vice President of ASAA, recounted that the first biennial ASAA Conference was held at the Institute of African Studies at the University of Ibadan in October 2015.

She said the ASAA was committed to providing a space where Africanists could formally collaborate to engage in the important work of reflecting on and proposing concrete responses to the global African solutions; adding that, "The work we do as professional Africanists must impact our communities."