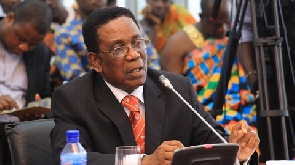 Wed, 6 May 2020 Source: GNA
The Government has presented over 20,000 bags of fertilizers to support cocoa farmers and boost production in the Agona East District.
This is to ensure that cocoa farmers in the district increase their yields to improve their livelihoods to well cater for their families and themselves.

Professor Kwesi Yankah, Minister of State in charge of Tertiary Education, who gave the hint said beneficial communities of the first consignment included Otabilkwaa, Asarekwaa, Mangoase, Namawura, Amanful, Kokoado NO2 and Okyereko.

Prof Yankah presented the first consignment of 200 bags of highly improved cocoa fertilizers to 200 cocoa farmers at Namawura in the Agona East District of the Central region.

The Minister said every single cocoa farmer in the district will benefit and there would not be discrimination in the distribution.

Prof Yankah who is also the New Patriotic Party's (NPP) Parliamentary Candidate recounted significant contributions cocoa farmers have made since the colonial era, which had positively affected the economic growth of the nation.

The Minister said he was a beneficiary of the Cocoa Scholarship Scheme and it was important to appreciate and give back to cocoa farmers in their struggles to boost the cocoa industry.
"I was born at Agona Duakwa, a cocoa growing community in the Central Region, so I know what it takes to appreciate our gallant Cocoa Farmers" Prof Yankah noted.

"These fertilizers, which are given at no cost to the beneficiary farmers is to encourage, especially our youth to go into cocoa farming to curtail urban migration".

Prof Yankah said President Nana Addo Dankwa Akufo-Addo led government would continue to support farmers with the necessary farming inputs to enhance food and cash crop production.

"Vegetable growers at Agona Asafo, Agona Duakwa, Agona Kwanyako, Agona Nsaba, Kwesi Twikrom and surrounding communities would soon get 10,000 bags of fertilizers free of charge to boost their production".

Already, Prof Yankah has supplied over 200 bags of rice, sugar, beverages, nose masks, alcohol-based hand sanitizers and others to Muslim communities to combat the COVID-19 pandemic.

The Minister urged Muslims to use the Month of Ramadan to pray to Allah to totally eradicate the COVID-19 in Ghana and other parts of the World.
Mr Francis Botwe, Opinion Leader at Namawura who received the fertilizers on behalf of the cocoa farmers assured the Minister that it would be distributed equally to all farmers in the district.

Mr Botwe cautioned beneficiary farmers not to attempt to sell the fertilizers or divert them but use them to boost cocoa production in the District.

The Minister later interacted with the People of Agona Kwenyako where he presented alcohol-based hand sanitizers and veronica buckets to them to help fight the spread COVID-19 pandemic.

He also donated cash and football jerseys to the community.
Source: GNA