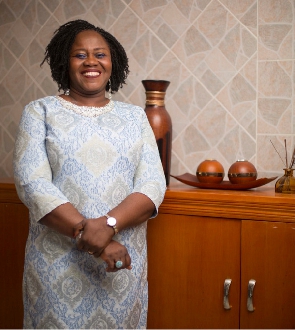 President Nana Addo Dankwa Akufo-Addo has appointed a Supreme Court judge, Gertrude Torkornoo, as the next Chief Justice of Ghana.
The president indicated that it is important that he begins the processes for the replacement of the outgoing Chief Justice Kwasi Anin Yeboah now, so as not to create any vacuum.

"Chief Justice Kwasi Anin Yeboah is due to retire from the bench on 24th May, 2023, his seventieth birthday. in order to avoid a vacuum and ensure that a new Chief Justice is immediately in office after his retirement, I have decided to being the process of appointment now. Article 144 (1) of the constitution, which governs the appointment of a Chief Justice, requires that I, first, consult with the Council of State before seeking the approval of Parliament.

"Consequently, I am nominating Justice Gertrude Arada Esaaba Torkornoo, a member of the Supreme Court, as the new Chief Justice," his letter, addressed to the Council of State, said.

If approved by the Parliament of Ghana, Justice Torkornoo will be the third appointment to the office of Chief Justice since Akufo-Addo became president in 2017.

She will also be the third female Chief Justice in the history of Ghana, following in the footsteps of Justices Georgina Theodora Wood and Sophia Akuffo.
Profile of Justice Gertrude Torkornoo

Gertrude Araba Esaaba Torkornoo is a Ghanaian judge and author. Formerly a judge of the Appeals Court, she was nominated Supreme Court Judge in November 2019 and vetted on 10 December 2019.

She was sworn in on 17 December 2019. Aside from law, she has authored books, plays, academic essays, articles, and presentations.

Gertrude Torkornoo hails from Winneba in the Central Region of Ghana. She was born on 11 September 1962 in Cape Coast. She had her secondary education at Wesley Girls' High School for her ordinary level certificate and Achimota School for her advanced level certificate.

She had her tertiary education at the University of Ghana and completed the Ghana School of Law in 1986.
Prior to joining Fugar & Co., a law firm in Accra as a pupil associate, Torkornoo worked as a volunteer at the FIDA Legal Aid Service and had her internship at Nabarro Nathanson in London. She returned to the firm (Fugar & Co., a law firm) in 1994 to become its director.

In January 1997, she became a Managing Partner at Sozo Law Consult until May 2004 when she was appointed a Justice at the High Court of Ghana. She worked as a High Court judge until October 2012 when she was elevated to the Court of Appeal.

She had been a justice of the Court of Appeal until her nomination for the role of Supreme Court Judge in November 2019. She was sworn into office on 17 December 2019.

Prior to her appointment as Supreme Court justice, Torkornoo has held a number of leadership positions, some of which include; Supervising Judge of Commercial Courts, Chair of the Editorial Committee of Association of Magistrates and Judges, Chief Editor for the development of Judicial Ethics Training Manual, Vice-Chair of the E-Justice Steering/Oversight Committee and Vice-Chair of the Internship and Clerkship Programme for the Judiciary.

She is also a Faculty Member of the Judicial Training Institute and a member of the Governing Board of the Judicial Training Institute.
Justice Torkornoo is also a poet. She has two anthologies to her name - The Child and The Rainbow, and The Wise Still Hear the Birds – as well as several plays.

According to africanwomeninlaw.com, the Chief Justice nominee is a staunch Christian and she worships with the International Central Gospel Church, Calvary Temple.

She established the Sozo Foundation, a ministry dedicated to evangelism through the publication and distribution of tracts and other literary works. She is also a key member of Aglow International and a board member of Theovision International, a ministry that translates the Bible and creates audio Bibles in African languages.

Meanwhile, watch the latest episode of People and Places on GhanaWeb TV below:




IB/BB