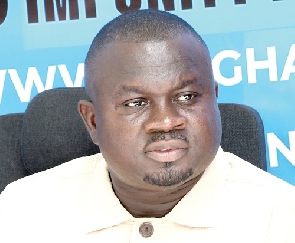 The President of the Ghana Journalists Association (GJA), Albert Kwabena Dwumfour, has urged Ghanaians and other Africans in the Diaspora to project the rich African culture to the outside world.
The GJA president made the call at the launch of the 2023 edition of the African Most Beautiful USA on Saturday at the Palmyra Harbour Banquet Hall, New Jersey in the USA. Mr. Dwmfour was the Special Guest of Honour for the occasion, which was organized by Abofrem Area Foundation

The African Most Beautiful USA is a beauty pageant that is aimed at showcasing and promoting African Culture by Africans to the rest of the world. It also aims at celebrating the diversity and beauty of young women from all parts of the African continent in the United States of America.

"This is a worthy cause that everyone must support, which is one of the primary reasons I accepted this invitation. As Africans in the Diaspora, it is our foremost responsibility to convey to the world the true African Story. This can be accomplished in numerous methods, including through literature, music, films, documentaries, politics, and this evening's event which is being championed by Abofrem," Mr Dwumfour said,
"As Africans, we have a diverse culture that we must share wherever we go," he added

According to him, representation of Africa, Africans, and African issues in the international media has always been problematic, because of the flow of news and the fact that international media reports are influenced by Western ideas, ideology, and political positions. "It is a well-established fact that media frames that appear in news are influenced by stereotypes and prejudices that shape the production of editorial content. Evidence abounds of the negative portrayal of the African continent in the elite global press, suggesting a socially constructed view of Africa, which some people have termed 'Afro-pessimism" he said.

"So the point I am driving at is that as Africans let's begin to believe in our rich culture, educate our children about our rich culture and prevail on them to let the African culture be a cynosure in their everyday life," Mr Dwumfour said.