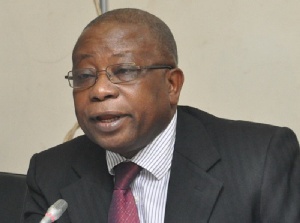 Dr Kwasi Antwi, Secretary of the Society of Private Health Providers in the Ashanti Region, has said service providers cannot rejoice over the assurances given by government to pay their arrears by May this year.
According to him, the previous government similarly gave assurances and timelines to clear those arrears but failed to honour them, adding that until the arrears are paid, the body will treat this latest promise by the government as mere rhetoric coming from this government.

The government has announced that it will pay all amounts owed providers under the National Health Insurance Scheme (NHIS) by the end of April 2017.

Health Minister Kwaku Agyeman-Manu, who revealed this at the ministry's annual summit in Kumasi on Wednesday, April 19, said government would not wait until the claims accumulate before providers are paid.

"Amounts owed providers, especially the Ghana Health Service (GHS) and CHAG (Christian Health Association of Ghana) and the private sector in respect to May 2016, will be settled by close of this week or early next week," he revealed.
In a subsequent interview with Chief Jerry Forson, host of Ghana Yensom on Accra100.5FM on Thursday April 20, he said government would release some amount of money "any moment from now which will enable the authority to settle about three or four months of the arrears by end of May or June this year".

Mr Agyeman-Manu indicated that government was hoping to undertake "monthly releases" to cater for the cost of health provision under the scheme henceforth.

But also speaking in an interview with Chief Jerry Forson on the same programme, Mr Antwi said: "I am not enthused about these assurances because we have heard over and over in the past. The previous government assured us they were going to pay us but it was not done.

"Until they pay us we will not commend them."