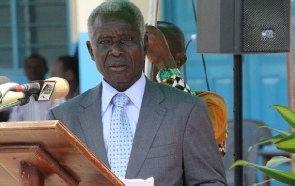 Brigadier Joseph Nunoo-Mensah, a former Chief of Defence Staff says there is confusion in various roles being played at the National Security Ministry.
The Minister of State in charge of National Security, Bryan Acheampong and the Minister for National Security, Albert Kan-Dapaah appeared before the Emile Short Commission to give their own testimonies of what led to the violence during the Ayawaso West Wuogon by-election.

However, various analysts and many who watched proceedings when the three including Minister for Interior, Ambrose Dery appeared before the Commission said they all contradicted each other.
Speaking to this during a panel discussion on TV3's political platform, 'The Key Point', Brigadier Nunoo-Mensah said there's the need to properly define roles of the Ministers.

"There is confusion about what Ministers are supposed to be doing . . . the job of Ministers is not to deploy troops; it's the IGP or the Chief of Defence Staff or Service Commanders . . . There is the need to properly lay out the roles or duties of Ministers to avoid confusion and promote coordination between them; their functions are confused," he indicated.