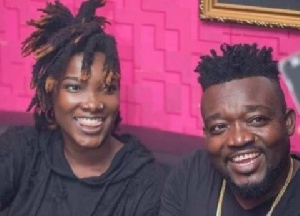 Bullet, the manager of the late Ebony Reigns, known in real life as Priscilla Opoku-Kwarteng has made some comments about the prophecy that is reported to have come from one Prophet Nigel Gaissie concerning the singer.
Speaking in an interview however, the manager of Ebony revealed that contrary to popular belief, the prophet's 'prediction' did not get to him (Bullet).

He added that if it did, there was no way he would have taken it for granted.

According to Bullet, he met Prophet Gaissie in the company of Blakk Rasta at the mall sometime back but the prophet did not mention the impending doom hovering over Ebony's life to him.

Rather, the prophet inquired about Ebony and asked if she was doing well. Bullet said it could not be ascertained whether God had revealed the 'prophecy of doom' to Prophet Nigel Gassie as at the time they met at the mall.

According to many media reports after the death of Ebony, Prophet Gaissie claimed to have prophesied the death of the award-winning dancehall act in November last year.
The prophet who was speaking on live radio revealed that both Ebony and Kaakyire Kwame Appiah had been marked for death.

Reports have it that, Kaakyire Kwame Appiah went to see the prophet for directions to avert the impending danger.

However, Ebony did not seek counsel with the Man of God, a claim Bullet has vehemently refuted.