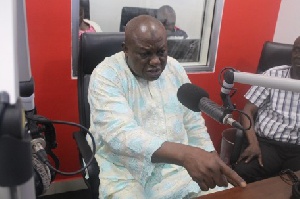 The Managing Editor of the Al Hajj Newspaper, Alhaji Bature Iddrissu has called for the sacked Director General of the Criminal Investigations Department (CID) of the Ghana Police Service, COP Bright Oduro to be prosecuted if government is convinced there was wrongdoing on his part while in office.
Maverick lawmaker for Assin Central, Kennedy Agyepong on Tuesday, alleged that the police chief was sponsoring land guards in the country leading to the confiscation of several legally acquired parcels of lands belonging to residents in Accra.

Alhaji Bature who was reacting to allegations leveled against COP Bright Oduro demanded that he should be hauled before the court to answer questions if claims by government and its assignees are anything to go by.

He observed that the deliberate attempt by some persons to ruin the 29-year working reputation of the senior police officer by planting stories in the media is unacceptable.

"If it is based on allegations he was engaged in land guard activities why did the President fail to allow the two deputy Chiefs of staffs to proceed on leave? You know this man very well, under the NDC he was tagged NPP. He worked very well for you but you have decided to treat him this way and planted the story in the media just to disgrace him", he observed.

"If he is working with land guards they should charge him. Doing it this way means they are covering up They should charge him and let him have his day in court rather than ask him to proceed on leave prior to retirement", he suggested
According to him, Deputy CID boss ACP Maame Yaa Tiwaa Addo-Danquah who has been directed to act in the capacity of his former boss is equally not clean considering her involvement in the recently leaked tape in a matter between musician, Kwame Obeng Asare alias A Plus and the two Deputy Chiefs of Staff.

"For me, the current happenings tarnish the image of Akufo-Addo's regime and not the party", he claimed.

COP Bright Oduro has been directed by the Police Council to proceed on leave prior to retirement, a directive he disclosed smacks of unfairness considering how other senior officers were treated before him.

Deputy CID boss ACP Maame Yaa Tiwaa Addo-Danquah, who is his immediate subordinate has been asked to take over in an acting capacity.