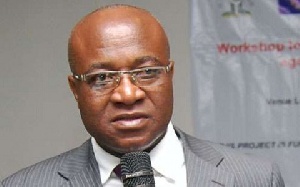 Majority Leader in parliament, Osei Kyei-Mensah-Bonsu, has backed calls for the prosecution of culpable directors of defunct local banks.
His comments follow a suit filed by receiver PwC over the collapse of Capital Bank. Pastor Mensa Otabil, his International Central Gospel Church (ICGC) and 13 other shareholders and directors of the now-defunct Capital Bank have been sued by Messrs. Vish Ashiagbor and Eric Nana Nipah, both of accounting and auditing firm PricewaterhouseCoopers, in connection with collapse of the bank in 2017.

"The BoG has a unit [monitoring unit], and those of them who are seen to have compromised their positions will suffer. I am sure about that; we must begin from somewhere and sanitise the banks," he told pressmen in an interview at Parliament House on Tuesday.

He also noted that the prosecution of directors is the way to go, and believes "if anyone is found to have breached the law, that person must certainly face the music".

Capital Bank and UT Bank were both declared irredeemably illiquid by the Bank of Ghana in August 2017, and were then taken over by the state-owned GCB Bank.
According to Kyei-Mensah-Bonsu, the turbulence in the banks' fold is one of the major factors affecting the cost of foreign currency – especially the dollar.

Background

In August, the central bank announced that the seven indigenous banks' collapse has come at a great cost, projected to cost an additional GH¢5.76billion to the taxpayer who is already saddled with the GH¢2.2billion government doled out to settle the liabilities of UT and Capital Banks.

There are currently 12 local banks in operation following the seven banks' collapse. This has prompted fears that the majority of local banks will struggle to meet the minimum capital requirement.