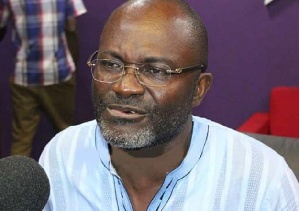 Outspoken New Patriotic Party (NPP) MP for Assin Central, Kennedy Agyapong, is bemoaning the slow pace in prosecuting alleged corrupt appointees during the John Mahama administration.
The NPP while in opposition accused the then ruling National Democratic Congress of being enmeshed in corrupt deals leading to the collapse of the economy. It levelled allegations of bloated contract against government officials, insisting more officials will not escape the law when it comes to power.

Barely a year into Akufo-Addo's administration no former government appointee has been hauled before the courts, prompting some political watchers to argue the NPP was engaging in campaign rhetoric.

Speaking on the issue, NPP firebrand Agyapong admitted he shares in the stance of the school of thought which believes heads should be rolling by now. However, he pointed out that it pays to hasten with caution.

"Ghanaians think we are being slow to prosecute, but the other flip side is that you don't want to rush to take people to court and lose cases. You have to do thorough investigation so that when you're going there you know that you're going to win the cases. I'll plead with Ghanaians to have patience," the lawmaker told GHOne TV's Nana Aba Anamoah on State of Affairs.
He added: "Frankly speaking, it is still been slow. By now we should have a couple of guys on trial to defend themselves and let the whole world know what they have done."

Mr. Agyapong was optimistic government will have a smooth sail in court since there are enough evidence to indict some of the former public officials.

"The president is on the right track in the fight against corruption. We have been slow in fighting corruption. We have enough evidence to take all of them to court," the NPP loudmouth stressed.

Parliament has passed the bill to bring into force the Special Prosecutor's Office which will be autonomous in dealing with cases of corruption. The president is yet to name the Special Prosecutor to pave way for his/her office to take off.