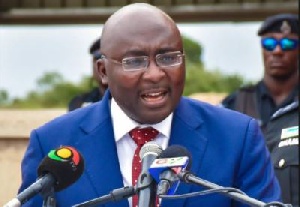 Government has charged the Auditor General to work hand-in-hand with the Office of the Special Prosecutor to expedite the fight against corruption in the public sector.
According to the Vice President Dr Mahamudu Bawumia, prosecution of persons and agencies found to have misappropriated state funds will instill discipline and serve as deterrent to public office holders.

Dr Bawumia said this at the 8th Annual Accountability lectures of the Ghana Audit service in Accra on Monday 26 February 2018.

He said: "We believe the time has come where it is necessary to strengthen the relevant constitutional bodies such as the Auditor General to protect the public purse from persons who intend to embark on personal economic recovery programme with established funds…"
On his part, the Auditor General, Daniel Domelovo, proposed an immediate review of the Public Service Act.

This he said, will help empower public servants to be more effective in the discharge of their service.