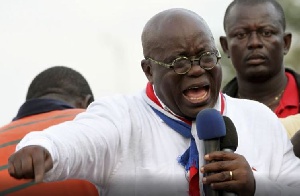 The Akufo-Addo-led government will ensure that costs of public projects are not inflated in order not to drain the national kitty, Mathew Nyindam, First Deputy Majority Chief Whip and Member of Parliament for Kpandai, has said.
According to him, one too many projects were overpriced in the previous administration of John Dramani Mahama, but such acts will not be replicated under the Akufo-Addo government.

Speaking in an interview with Chief Jerry Forson, host of Ghana Yensom, on Accra100.5FM on Monday January 9, Mr Nyindam said: "If you listened to Nana Addo Dankwa Akufo-Addo in opposition, he mentioned that there were several projects introduced by the then NDC government that had no due diligence done on them, therefore, did not give Ghanaians value for money and that they were inflated projects. The Kasoa interchange, which resulted in exchanges between then President John Mahama and Nana Addo was an example.
"Nana Addo knows that it is good to build schools, it is good to build roads, it is good to build interchanges, but at the end of the day, as we are doing those projects, we should not inflate the cost of those projects. We need to make sure that there is actually value for money and that is why Nana Addo is saying that if we can use for instance GHS100 for a project, we should not inflate it to GHS500 because it is state money."

He added: "So, if we (government) are about to start a project, we will make sure that that project has value for money. We will not inflate the projects because we think we can make money for our personal use through that. Secondly, we will set our priories right. If it is roads we are thinking about, we will ask ourselves whether that is what we need at the moment as a nation. We will consider priority."