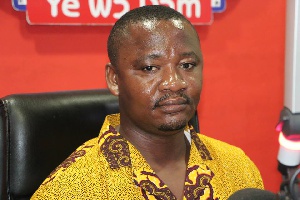 District Chief Executive for Adansi North is challenging the Chief of Nyinahini, Nana Amanpene Boateng Twum to prove his claims that business man, Ibrahim Mahama is a native of the area.
According to Eric Kweku Kusi, the Chief must mention Ibrahim Mahama's family house, his ancestors and any other landmark that support his claims.

Hon. Kwaku Kusi was speaking to host of Abusua Nkommo, Kwame Adinkrah on claims by the Nyinahini ruler that Ibrahim Mahama, brother to former president Mahama is a native of the town.

The Chief of Nyinahini in the Atwima Mponua District of Ashanti Region Nana Amanpene Boateng Twum, waded into the Exton Cubic Group Limited and Nyinahin youth bauxite saga, accusing the District Chief Executive (DCE) of the area, Williams Darko, of stoking an unnecessary fire.

Speaking to journalists at a news conference, Nana Amanpene, who appeared livid by the actions of the DCE and the Ashanti Regional Minister, Simon Osei Mensah, said Exton Cubic had the full backing of the community to engage in bauxite prospecting in the Tano-Offin forest reserve.
The Chief also claimed Ibrahim Mahama traces his lineage to the Nyinahini village.

But the Adansi DCE is not convinced. He says, "the Chief must tell us where Ibrahim Mahama's ancestors lived in Nyinahini, he must also tell us any property owned by Ibrahim Mahama in the village."

"Again, the Chief must tell us whether Ibrahim Mahama has been attending festivals and other traditional or social functions in the village anytime such an event takes place," he dared.

Eric Kwaku Kusi adds, "Kwame, we can't allow some few people to allow their selfish and personal interests to override the collective good of the people…that won't happen under this government as it did previously."