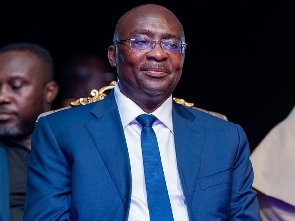 Thu, 9 Mar 2023 Source: GNA
Vice President Dr Mahamudu Bawumia says Ghana Card numbers will be issued to newborn babies at birth from March 31, 2023.
The number will be a special identity for every child throughout his/her education journey and not wait till 15 years before registration.

Vice President Bawumia announced this at a breast cancer awareness programme at Accra Newtown, to mark International Women's Day, on Wednesday.

The event was jointly organised by Breast Care International and the Office of the Vice President to sensitise women on the need to regularly check and screen their breasts for early detection of cervical cancer for treatment.

International Women's Day is marked every year to recognise the enormous contributions of women in national development held on the theme: "Digital: Innovation and Technology for Gender Equality."

The Vice President highlighted some of the digital programmes and interventions rolled out by the Government to enhance service delivery and promote the ease-of-doing-business in Ghana.
They included the digital property addressing system for easy identification of properties and locations, medical drone delivery centres to facilitate speedy delivery of medicines and blood products to remote areas, mobile money interoperability payment system for convenient transfer of money across the various telecommunication networks and electronic renewal of national health insurance cards.

He believed that the digitisation of the economy would fast-track economic development and urged the public to support the government's digital transformation agenda.

Dr Mrs Beatrice Wiafe-Addai, the Founder of the Breast Care International and Peace and Love Hospitals, in an address, paid glowing tribute to women in Ghana and across the globe, for standing up for their civic rights and drawing attention to acts of injustices being meted out to women in deprived communities.

"The continued re-awakening of our consciousness to challenges impeding our progress bears testimony to our fidelity to the cause of the female textile torchbearers who triggered this struggle in New York on March 8, 1857.

"Clearly, that pioneering protest against unfair working conditions and unequal rights for women has not been in vain, given the sustained gains recorded by activists against artificial barriers and inequalities against women," she said.
She noted that women in Afghanistan, Libya and several other places where rights were under threat, should remind Ghanaians and the world of the long walk to freedom.

Therefore, she said, it was imperative to support females across the world to bring alive the dreams of little girls yearning to become women of substance tomorrow.

"The sterling performance of several renowned global women is sufficient evidence that a successful woman is the one who can build a firm foundation with the bricks others have thrown at her," she pointed out.

Dr Wiafe-Addai underscored the need for women to resist all cultural stereotypes stifling their initiative and drive.

She said the Breast Care International and Peace and Love Hospital were poised to move away from the generalities of the celebration and do some stock-taking on the various pitfalls to forge a future with higher women inclusion in decision-making processes.
Source: GNA