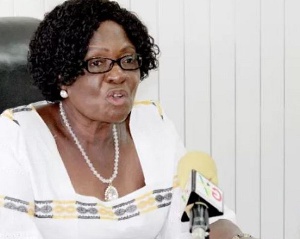 Chairperson of the Public Services Commission, Bridget Katsriku, has lambasted staff of the civil and local government services whose partisan activities are retarding the country's development.
"In recent years, we have witnessed a significant departure from the civil and local government services' values, including transparency, objectivity, accountability, professionalism, political neutrality etc. This is gradually eroding the stature and character of the services," she declared.

She disclosed this while speaking in Accra yesterday at a symposium organized by the Civil and Local Government Staff Association of Ghana (CLOGSAG) to deliberate on political neutrality among civil and local government staff who play a crucial role in ensuring the smooth running of state machinery.

The experienced civil and public servant said that "from 2001 to date the political neutrality of the civil servant and the local government servant has been seriously compromised."

She blamed it on the recruitment process, lack of trust among politicians, as well as the attraction of civil servants to political activism.

Mrs Katsriku said that due to the partisanship posture of some civil servants, there is always what she called 'deep rooted' mistrust by the incoming government and appointees, who try to bring in their own people to occupy some key positions within the respective portfolios.
"These people who are brought in, then occupy the civil servants' position and become civil servants by default and therefore cannot be considered politically neutral."

He bemoaned the rate at which some civil servants pick forms to contest primaries of political parties and when they are unsuccessful try to hold on to their positions.

"Some civil and local government staff are joining parties and engaging in active political activities, attending political rallies, standing for elections in the primaries while still holding office," she said, adding "the irony is that even when such staff lose the primaries, they have the audacity to remain at post."

Ignatius Baffour Awuah, Minister of Employment and Labour Relations supported Mrs Katsriku's view that some civil and local government staff were in the habit of running down their colleagues when there is a change in political administration.

He said in the process, some hardworking staff, who were helping the government to run effective machinery get tainted politically and that leads to apathy.
"Some people are experts in running down others just to build a good name for themselves."

The minister vowed to use dialogue to ensure industrial harmony, saying "this government will not use confrontation in resolving labour issues."

Isaac Bampoe-Addo, Executive Secretary of CLOGSAG, said the association's decision to go to the Supreme Court for an interpretation of the role of civil servants in the scheme of political activities was premised on "the fact that elections at the District Assembly level were non-partisan."

"Moreover, some government appointees at the District Assemblies were officers in the civil and local government services."

He said "the Supreme Court's profound judgement in July 2017 has serious implications for civil and local government staff, as well as the government and its representatives."