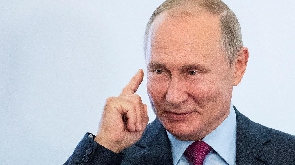 The Economic Freedom Fighters (EFF), an opposition party in South Africa have assured the full safety of Russian president Vladimir Putin whenever he visits the southern African country.
EFF leader Julius Malema said in an interview with local media that the Russian president is welcomed to South Africa and he will be protected from his arrival till exit by EFF members.

"Putin is welcomed here. No one is going to arrest Putin. If need be, we will go and fetch Putin from the airport to his meetings. He will address, finish all his meetings, and we will take him back to the airport," Mr Malema said.

"We know our friends. We know the people who liberated us. We know the people who supported us," he added.

According to reports, Putin is scheduled to travel to South Africa for the Brics (Brazil, Russia, India, China and South Africa) summit in August.

The South African government said it will seek legal clarifications before Putin arrives in the country.
The Russian president is the subject of an International Criminal Court (ICC) arrest warrant over the abduction of Ukrainian children in the ongoing war with its neighbour.

As per the warrant, Putin could face arrest in more than 100 countries that recognise the jurisdiction of the ICC warrant.

Russia, like the US, is not one of the 123 countries that are parties to the ICC under the Rome Statute, which established the court.

Putin becomes the third sitting president to be hit by an ICC warrant after former leaders of Sudan and Libya, Omar al-Bashir and Muammar Gaddafi respectively.

SARA