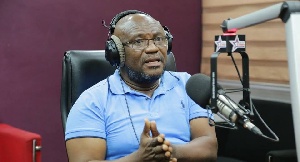 Ace broadcaster Ebenezer Ampaabeng has said Ghanaians could have gone easy on the resigned deputy minister for Agriculture considering the fact that he apologised immediately after making the ethnocentric comments.
Mr Quaitoo resigned on Tuesday after a heavy public backlash after he described northerners as difficult people.

Even though he apologised a day after making the comments on Starr FM, the public fury continued until he resigned from government.

Commenting on the matter, the iconic TV newscaster told Sit-in host of Starr Chat Kafui Dey that the matter was overblown.

"If you want to be real, many of us have certain baggage but we have to be careful where we speak and make sure that they don't come out. The news that I followed on Facebook I realised that there was a divided opinion over whether he should resign, and I thought that we could forgive him.
"I myself was in tow minds over the issue because you need to be in the shoes of the person and you also need to be in the shoes of those offended. If you are in the shoes of those offended, you would think that this is not good for us and that he should be given the severest form of punishment; now in the shoes of this man, I realised that he had shown remorse and admits he shouldn't have said that," he said.

A statement from the presidency announcing the former deputy Minister's resignation said, "The President of the Republic, Nana Addo Dankwa Akufo-Addo, this evening accepted the resignation from office of the Deputy Minister for Agriculture, Hon. William Quaitoo, MP, which takes immediate effect. The President wished him the very best in his future endeavors."

According to Mr. Quaitoo, he left his post in order to bring peace among those offended by his comments.

"…In addition to the sincere apology, I resigned to bring peace among all those who were offended and to save the President and the entire party from further rancour and disaffection. The party is bigger than any individual member," he said.