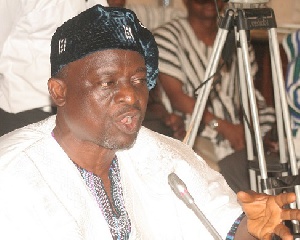 Sagnarigu MP, A.B.A. Fuseini, insists resigned Deputy Minister of Agriculture, William Quaittoo is not remorseful about his ethnocentric comments against people of northern extraction in Ghana.
The Akim Oda MP had described northerners as "liars" and "difficult" people to deal with.

Mr Quaittoo later retracted his comments and rendered an apology. He subsequently resigned following pressure from the Minority as well as several northern groups and northerners including presidential staffer Napaga Tia Sulemana.

A.B.A Fuseni said even though his colleague MP's resignation is "a positive step" and "can help assuage the hurt and anger" of the people of the northern region, he did not show remorse with his apology.
"He [William Quaittoo] was not remorseful," Alhaji Fuseini stressed, explaining: "A person of remorse would have said: 'look, I take it in Toto that what I said was improper, on the basis of that I wholeheartedly withdraw it and apologise unreservedly', that is an apology that is unreserved …"

The northern MP told Accra-based Starr FM's Francis Abban that Mr Quaittoo's attempt to explain himself and clarify his comments while rendering the apology defeated the purpose.